Borlis is a specialist in leather trims and haberdashery in particular.From catwalk pieces to mass production, our teams' expertise, continual knowledge sharing and constant self-improvement through training and purchasing advanced equipment ensures they provide the very best service to the most demanding names in French luxury.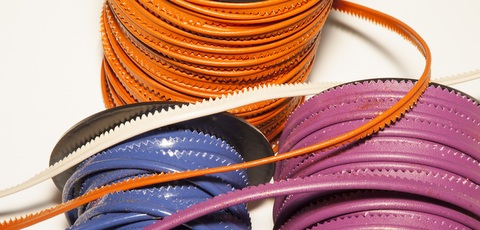 Borlis brings together a whole host of solutions on a single site
With all our textiles and leather goods expertise together on the same site, we can offer reliable solutions for a wide range of specialist areas:
Leather and textile trims: tassels, fringes, stitched or glued braids (from 1.6mm to 20mm), tubular or flat plaiting, laces and spaghettis.
Sheathing: by hand or mechanised
Micro leather goods: bracelets, earrings, necklaces, keyrings, cufflinks, accessories for finished products such as belt buckles, buttons, toggles etc
Small leather goods: from toiletry bags to belts and all types of cases, right up to Shagreen marquetry.
Contract biasing: we can bias wind your materials as a bespoke service from just 500 linear metres.
Made-to-measure components and sub-assemblies for your own materials or ours: Piping, edgings, straps, bindings, cords, miscellaneous reinforcements, textiles and PVC.
Borlis Workshops certified as a Living Heritage Company

Certified as an Entreprise du Patrimoine Vivant (Living Heritage Company), Borlis Workshops draw on the wide range of experience and equipment offered by the Borlis Industries teams.
Saddle stitching, edge turning, edge colouring, assembling onto noble metals, assembling metal parts, hot stamping, embossing, shaping, stitching, assembly, quality control finishing: each member of the team has excellent hands-on experience as a result of internal or external training.
Your project will be in the capable hands of the Borlis design office, which is used to working with the strict deadlines and exacting quality standards of the luxury sector.
All our designs are made entirely in France and follow the same cycle: Prototype-Validation / Pre-Production-Validation / Production.